The Head of the River Race (HORR) is a processional race for eights rowed over the 4.5 mile championship course from Mortlake to Putney i.e. the (Oxford-Cambridge)Boat Race course in reverse. It involves a maximum of 420 crews and involves some 3,750 competitors, believed to be a record number for a single continuous rowing event.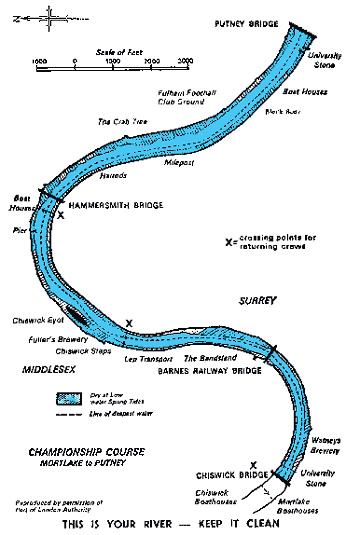 The Race was devised by the legendary Steve Fairbairn, the Cambridge and Tideway oarsman, as a means of getting crews aiming for the Summer regatta season to do long rows during the Winter. The first race was held in 1926 and 21 crews took part.
There was no race in 1937 (there was no suitable tide on a Saturday and no competitive sport took place on Sundays in those days) and none from 1940-45 inclusive. The event was restarted in 1946 and has taken place annuallly ever since.
From 1979 onwards, due to the sheer volume of competitors and for reasons of safety on a relatively small area of river and riverside, the HORR Committee had at that point to impose a limit of 420 crews, which still exists today. The race is usually well-oversubscribed.
The previous year's winning crew starts first, followed at 10-second intervals by the other crews in finishing order, and then by new entries in alphabetical order. The race takes approximately 1.5 hours from the first crew starting to the last crew finishing. The record time for the course is 16mins 37secs set in 1989 by the GBR National Squad.
Some 50-60 overseas crews take part every year. The majority come from Germany, but over the years entries have also been received from Australia, Austria, Belgium, Denmark, France, Italy, the Netherlands, Spain, Sweden, Switzerland and Yugoslavia.
The Race is usually held on the third or fourth Saturday in March each year, depending on tides and the date of the Boat Race. Usually the two events are held on separate days, although in 1987 and 1994, the Boat Race took place in the morning and the HORR in afternoon.
---
Comments to XE_S540@kingston.ac.uk
Original auf

www.kingston.ac.uk/~xe_s540/Horr.html